Motorized
Retractable Awnings
30 In-Stock Sunbrella® Fabrics Available
SunPro has teamed up with Sunbrella, the most-recognized name in the awnings industry. Thanks to its celebrated fabrics, all SunPro awnings are offered in 30 in-stock, high-quality Sunbrella fabrics across five color groups. SunPro is proud to have raised the bar in offering dealers and their customers the industry's supreme fabric choice in more than three times as many color choices than ever before!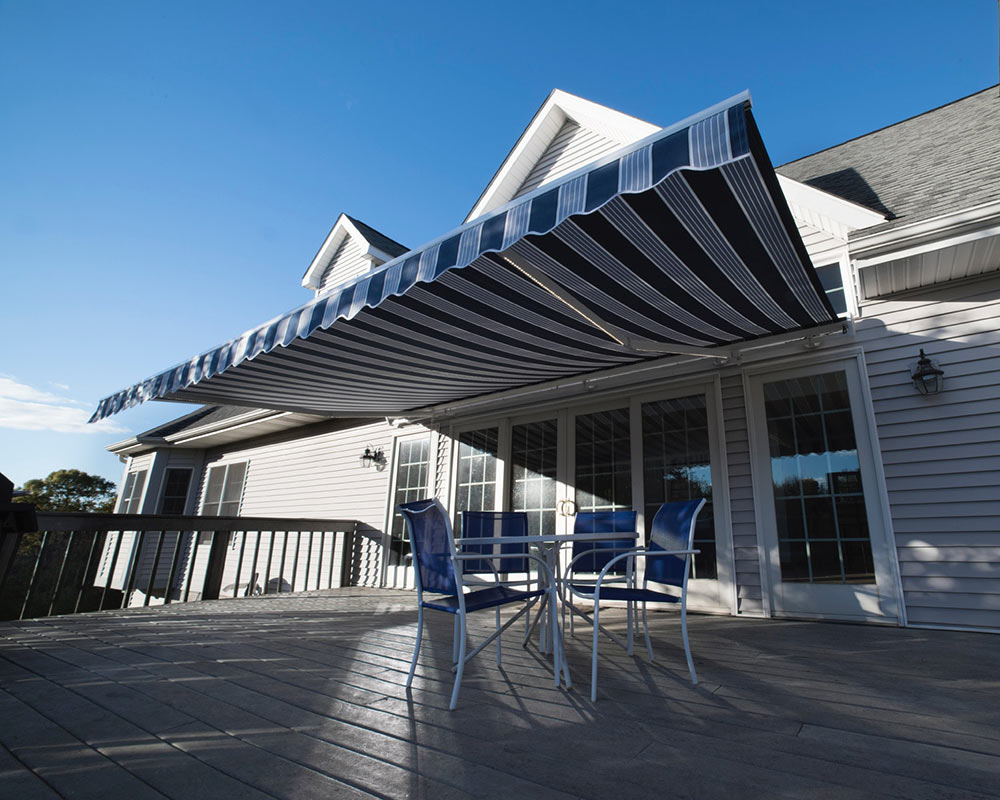 Sunbrella Fabrics Color Options
Dealers and their customers will appreciate the extraordinary, eye-pleasing variety that these color choices—blues, greens, reds, light tans and beiges, and blacks and greys—bring to SunPro's celebrated line of awnings. These color choices include a mixture of solids, stripes, two-tone and multitone designs.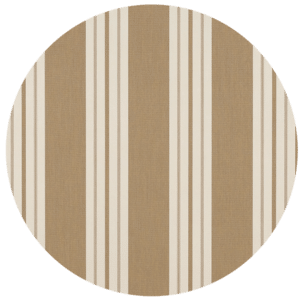 4954-0000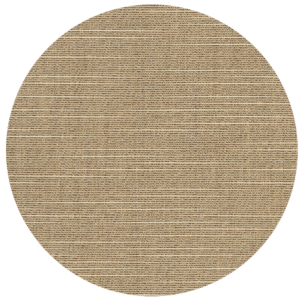 4859-0000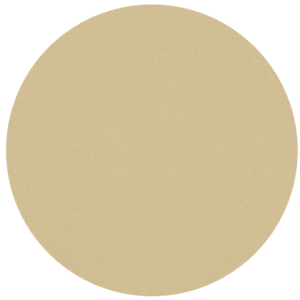 4633-0000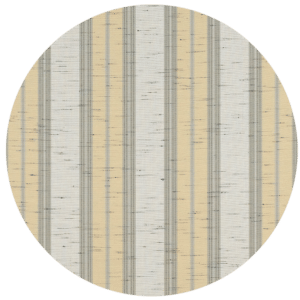 4954-0000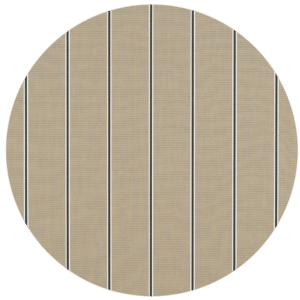 4961-0000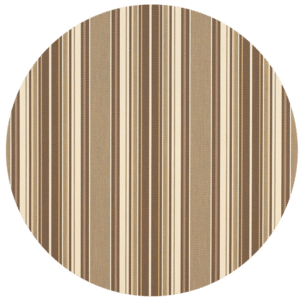 4817-0000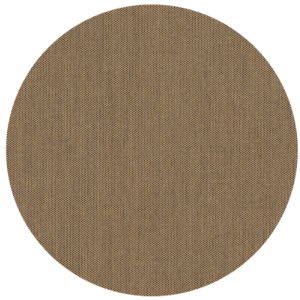 4696-0000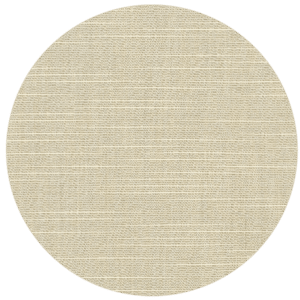 4862-0000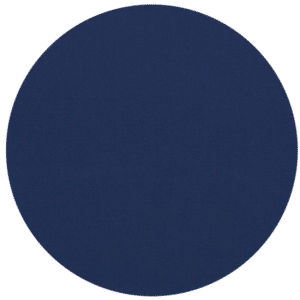 4678-0000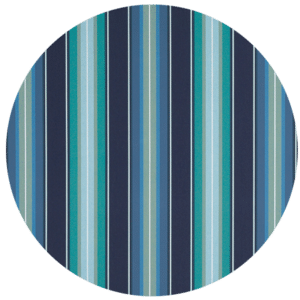 4884-0000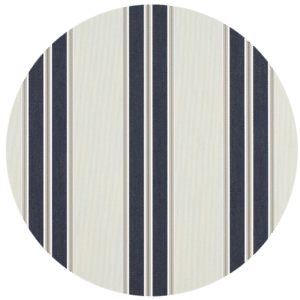 4916-0000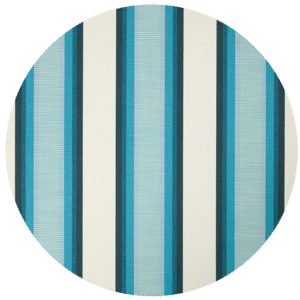 4823-0000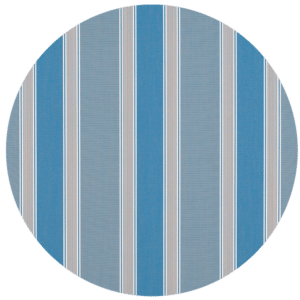 4992-0000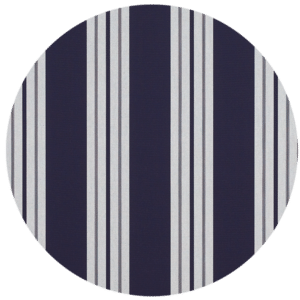 4902-0000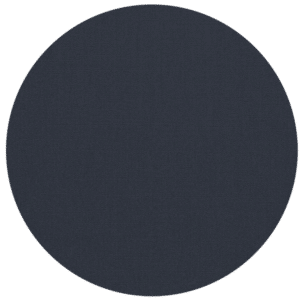 4626-0000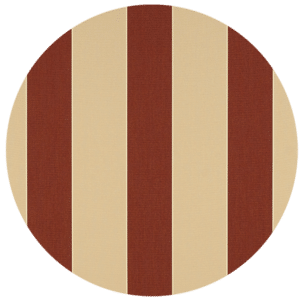 4985-0000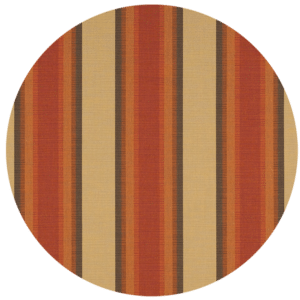 4857-0000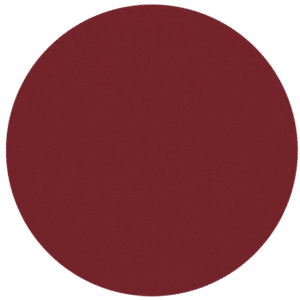 4631-0000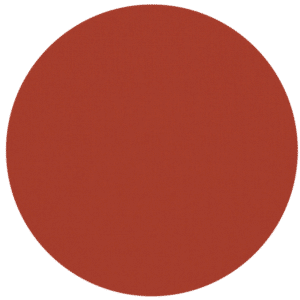 4622-0000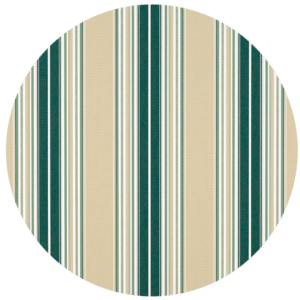 4932-0000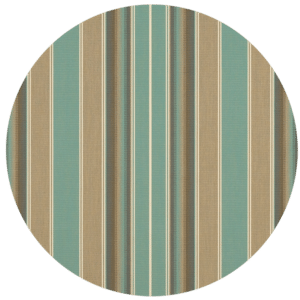 4868-0000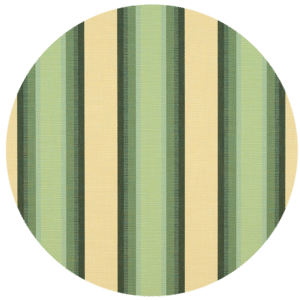 4856-0000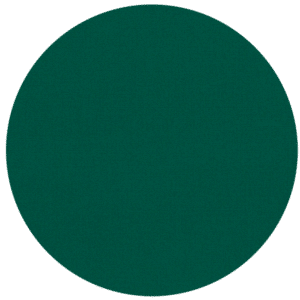 4637-0000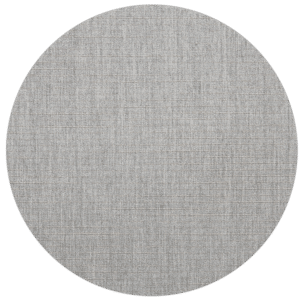 4833-0000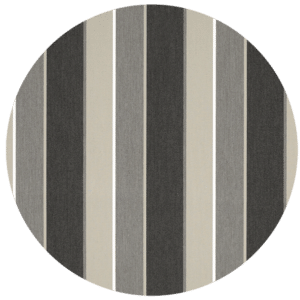 4888-0000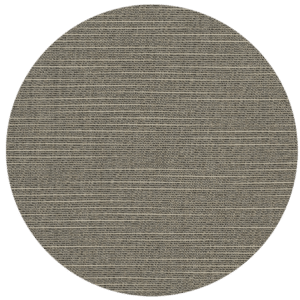 4861-0000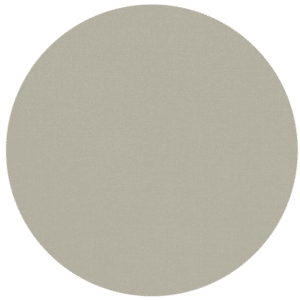 4630-0000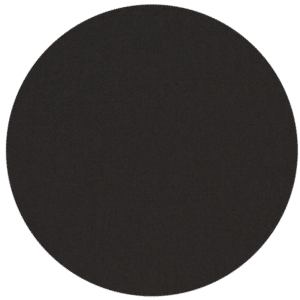 4608-0000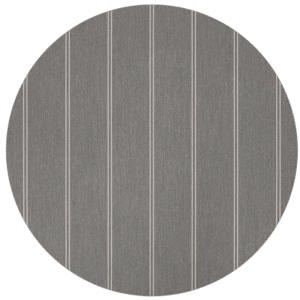 4835-0000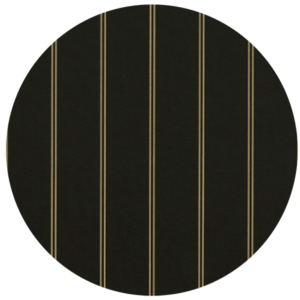 4988-0000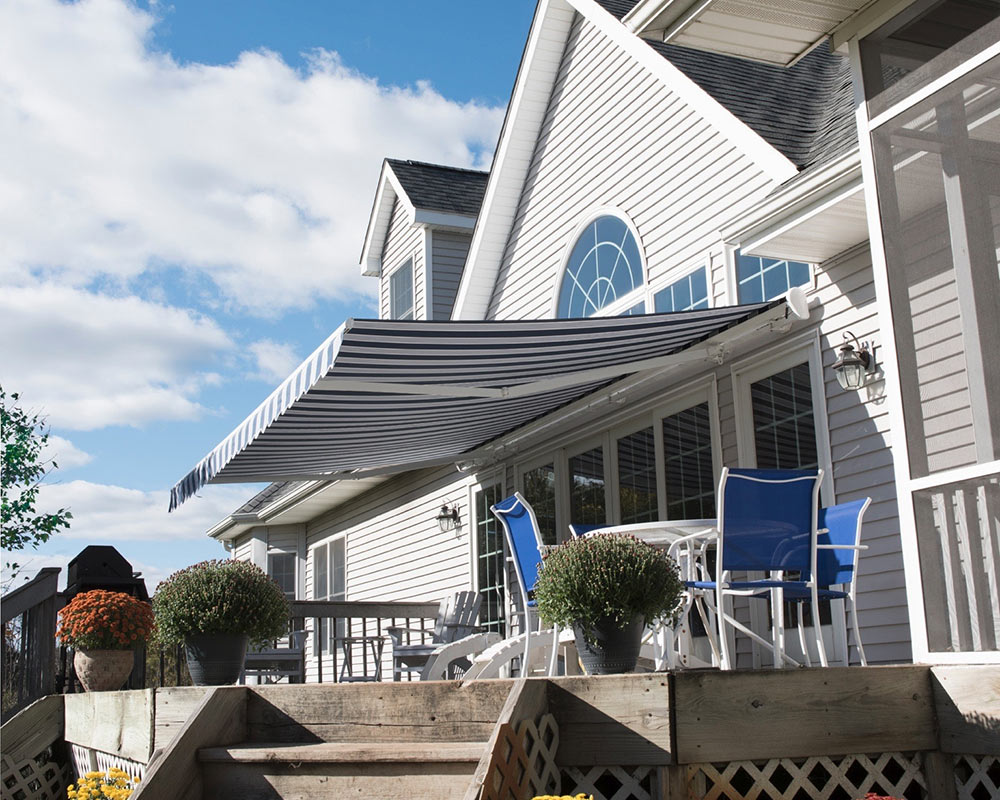 More Than 300 Custom Fabric Options
Beyond the 30 in-stock Sunbrella fabrics available, SunPro offers more than 300 custom fabric options to meet practically anyone's tastes. Sunbrella's fabrics have earned the Skin Cancer Foundation's seal of approval as an effective ultraviolet light protection. Sunbrella's fabrics have also earned GREENGUARD's gold certification for low chemical emissions.
SunPro Awning's Premium Features Are
Standard Features on All Our Awnings
Dealers selling SunPro awnings will be impressed with much more than the addition of Sunbrella's world-class fabrics and color options.
SunPro has earned a sterling reputation for our strong commitment to providing premium features as standard features across our awnings line. A value-added benefit of stocking SunPro awnings compared with competitors' products, is that our dealers have more bells and whistles to show customers. SunPro awnings are available in custom frame sizes. Customers will benefit from SunPro's ability to produce tailor-made widths from 10 feet to 40 feet. Additionally, our awnings are available in three standard projection sizes: 8, 10 and 12 feet.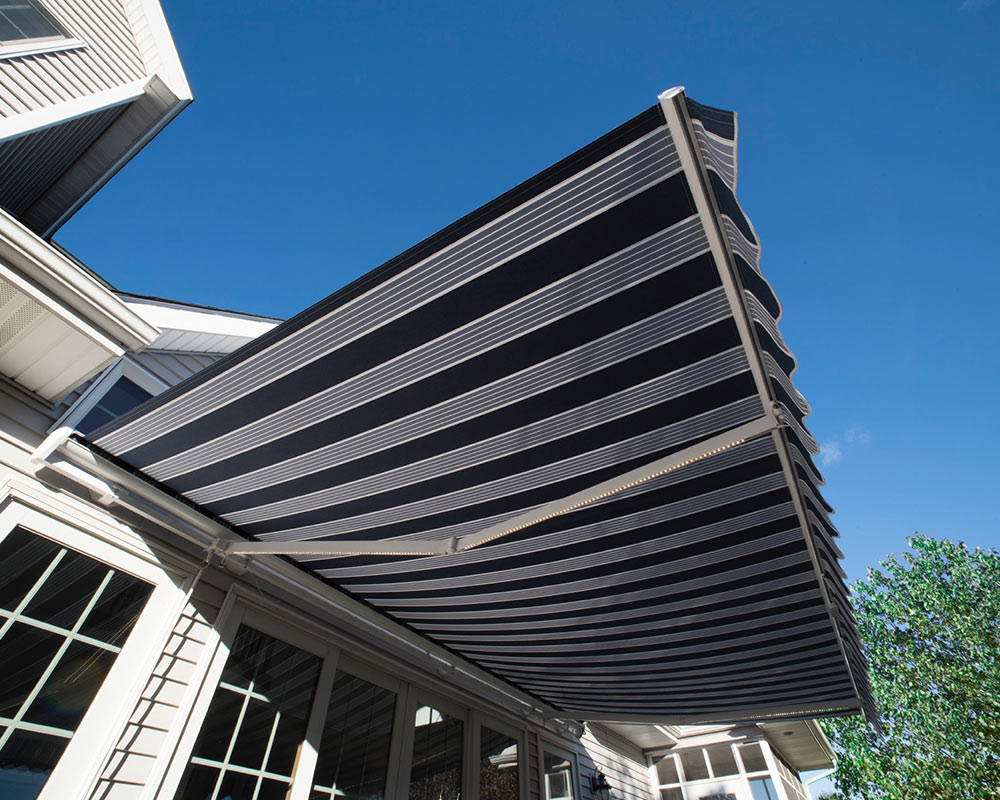 Our Seven Signature Premium Features
Below, explore our seven signature premium features that help put SunPro's awnings, which are backed by a 10-year limited warranty, ahead of the pack.
Built-In Dimmable LED Lights
A key premium SunPro awning feature dealers enjoy highlighting to customers as a standard feature on all our awnings is our built-in dimmable LED lights. These lights are cleverly built into the arms of all our awnings, giving users the ability to control the level of light by remote control.
For customers wanting to keep their gatherings going well beyond dusk and deep into the night, these built-in dimmable LED lights are a prized premium feature. Some SunPro competitors offer optional light packages that are fastened in place by unsightly velcro and wire ties. This tacked-on charge costs $400 to $500, with separate installation costs driving up the overall expense.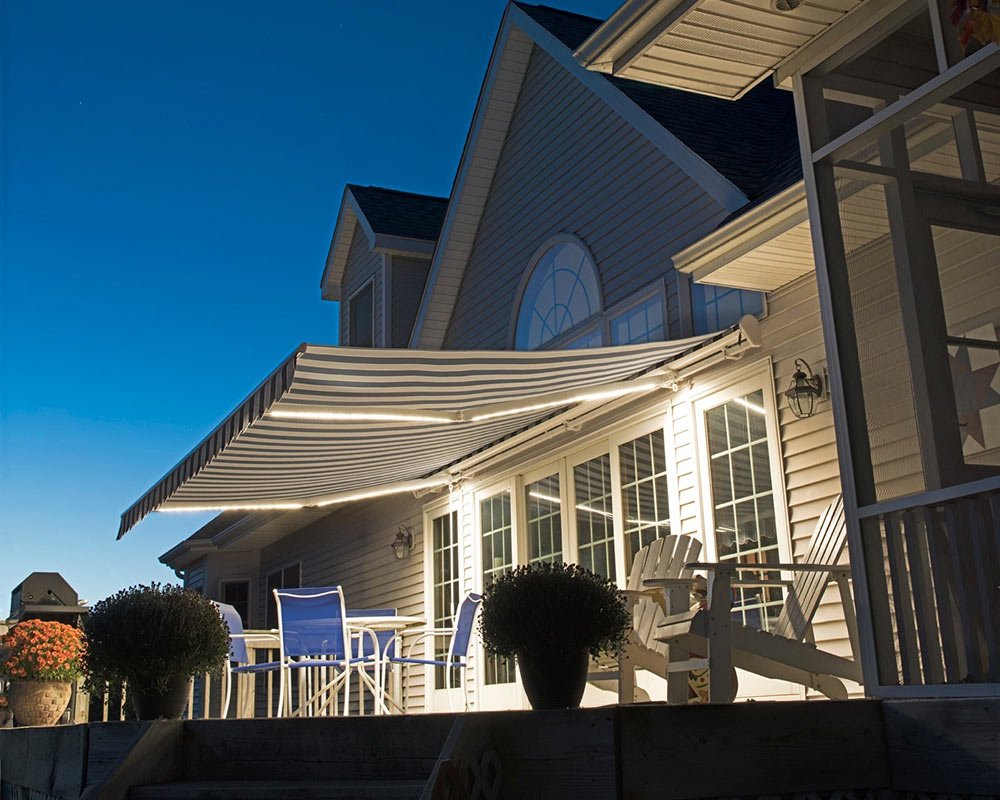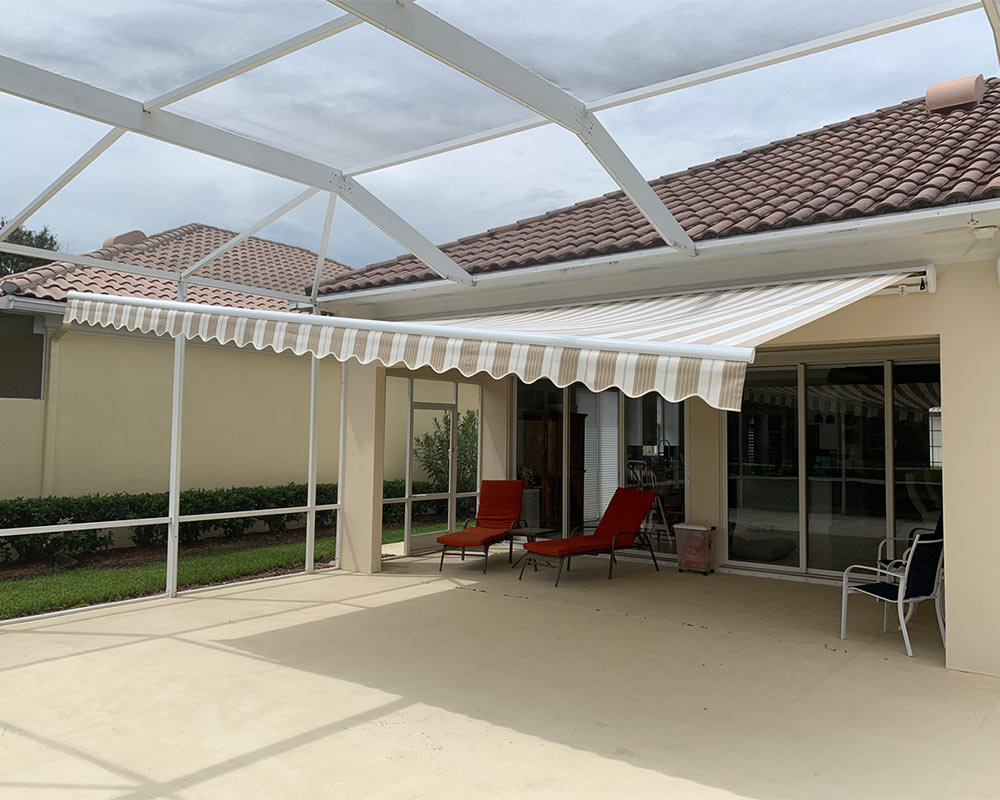 EZ-Pitch Adjustment
SunPro's EZ-Pitch Adjustment is another highly-valued premium awning feature that comes standard with all our awnings. Our EZ-Pitch Adjustment makes pitch changes a cinch. Customers may easily adjust the slope, or pitch, of their awning by themselves by using an included crank, turning the pitch pin on either side, thanks to our EZ-Pitch Adjustment.
SunPro's EZ-Pitch Adjustment is so special that similar features produced by competing manufacturers is an absolute rarity in the awnings industry. Almost all competitors' awnings require customers to use a ladder and Allen wrench to line up the pitch to suggested stationary settings. Even more, customers usually don't adjust the pitch by themselves and instead call on technicians to handle this complicated process for them.
Integrated Cassette Housing
SunPro awnings' integrated cassette housing protects awning fabric from weather damage, extending its life. Our integrated cassette housing is another popular premium feature that comes standard on all SunPro awnings.
When SunPro awnings are retracted, this integrated cassette housing, sometimes called a "garage," protects all the fabric from the elements. Customers will enjoy awnings that better withstand excessive fabric fading, insect and bird damage, and other fabric wear issues. Our competitors, meanwhile, offer hood housing as a premium option at an additional charge. Hood housing, also known as a "car port," doesn't prevent as much insect and bird damage along with other wear factors, however.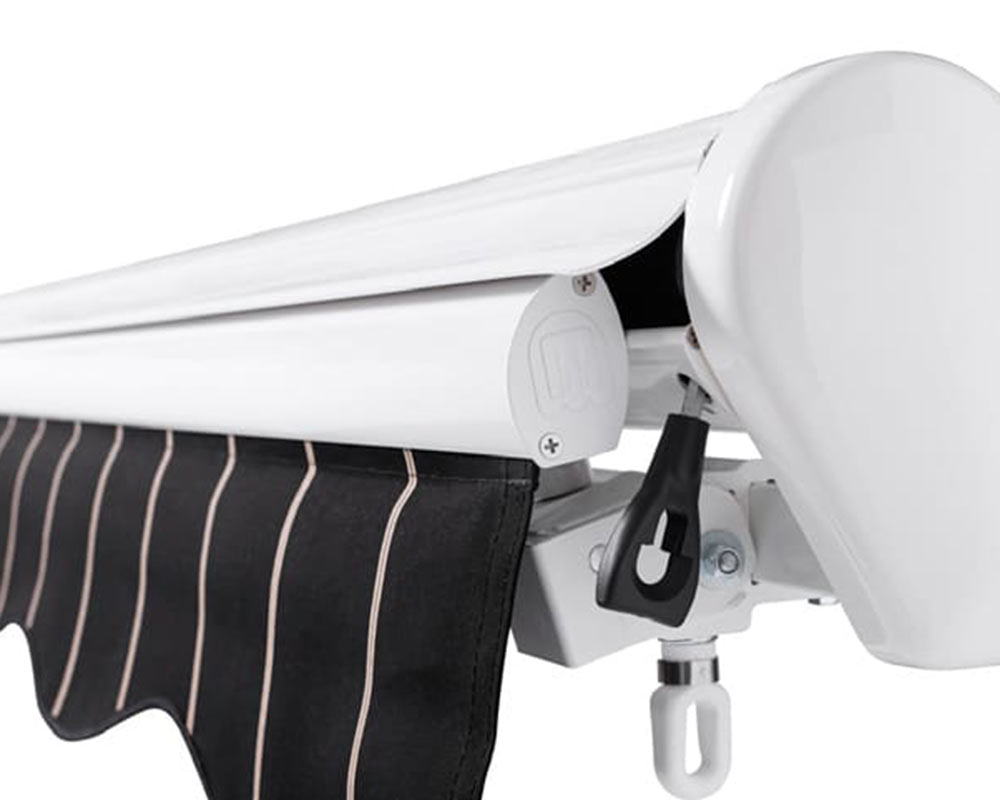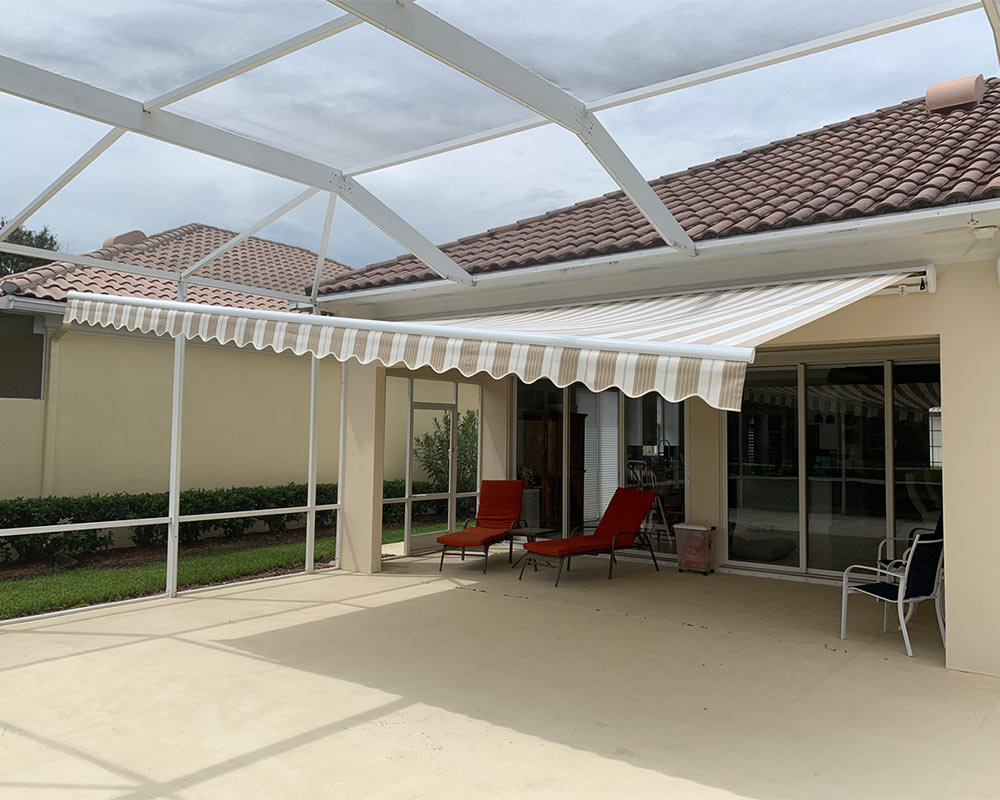 Motorized with Wireless Remote Control
All SunPro's awnings are also motorized and operated by a wireless remote control. Dealers appreciate this premium feature made standard with all SunPro awnings because of the ease and simplicity it brings to customers.
Customers of all ages are grateful for the touch-of-a-button experience that comes with using all SunPro awnings. Some competitors' awnings still operate by using only a crank, and this can be prohibitive for some customers, especially those with physical limitations. Customers desiring a crank feature in SunPro awnings will be glad to know that SunPro also includes a manual override feature to the motorized function.
Three Frame Colors
SunPro's awnings come in three frame colors—white, bronze and beige—and are certain to dazzle customers' eyes. Our dealers appreciate this premium feature that is made standard in all SunPro awnings. Not only are awnings made by SunPro highly functional and a breeze to use, but they give customers a lot of options when it comes to finding a color match that's appropriate for their homes. SunPro's three frame colors are three times as many options our competitors offer. Customers enjoy the opportunity to select from white, bronze and beige, which complement most home exteriors.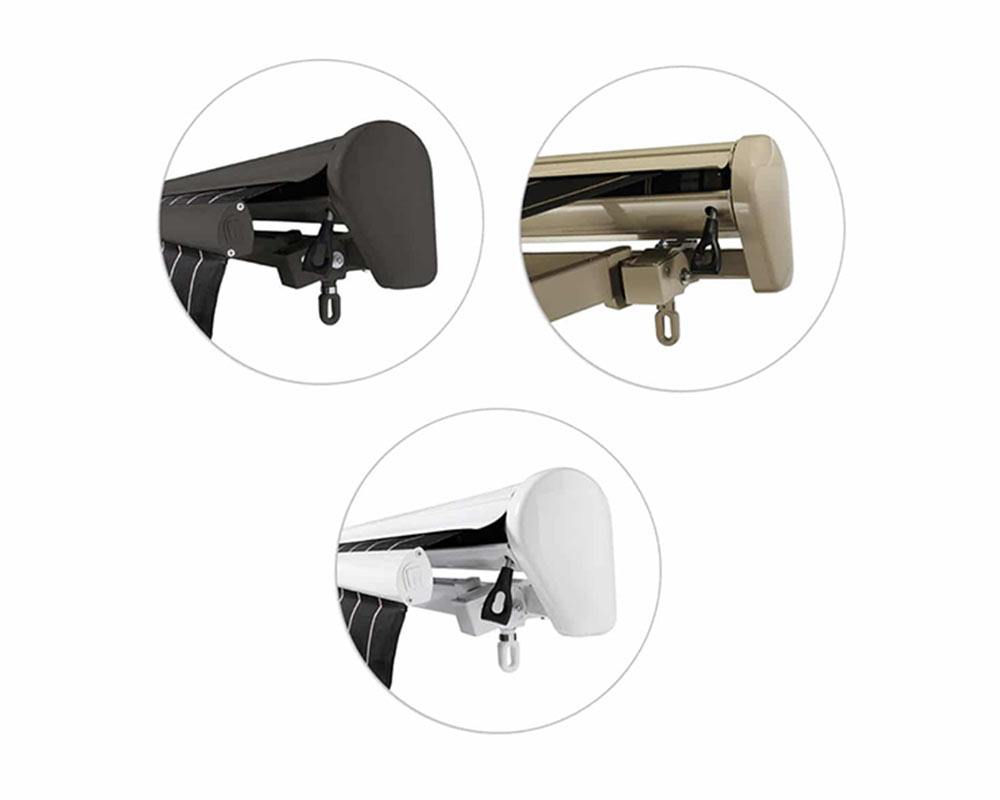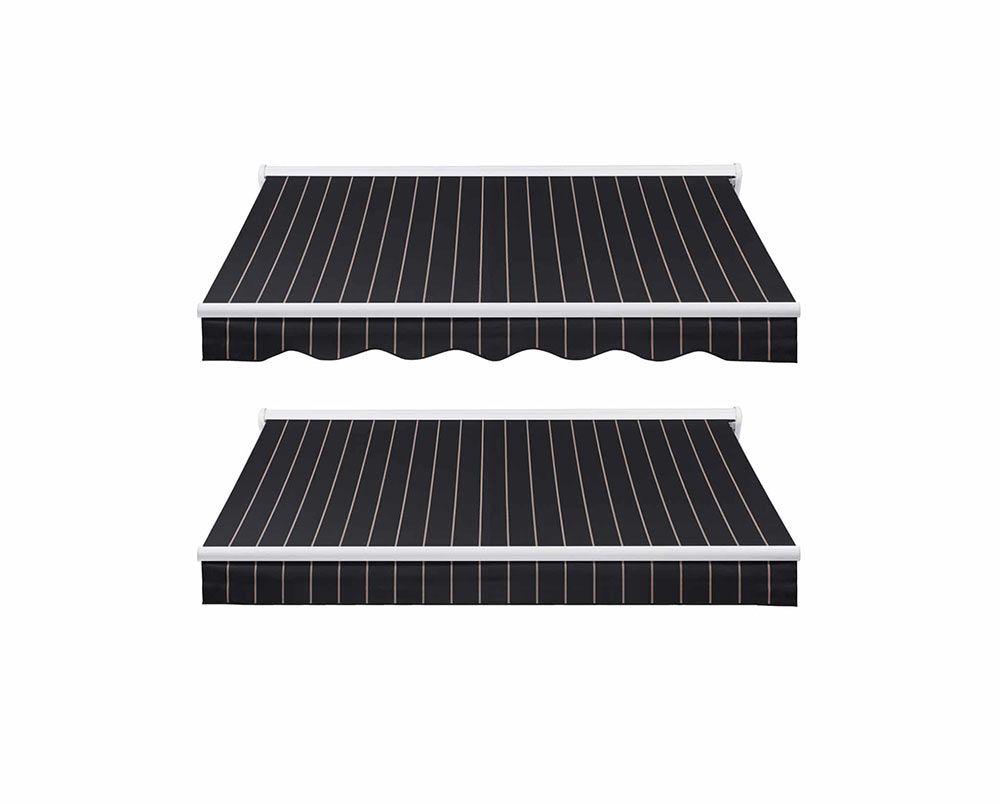 Straight or Sea-Wave Valance
SunPro's awnings also come in either straight or sea-wave fabric valances. Our high-quality valances are able to be easily removed and reinstalled by customers.
Multi-Use Front Bar
Finally, all SunPro awnings include a seventh premium feature, a multi-use front bar to accommodate optional accessories, as a standard feature across the product line.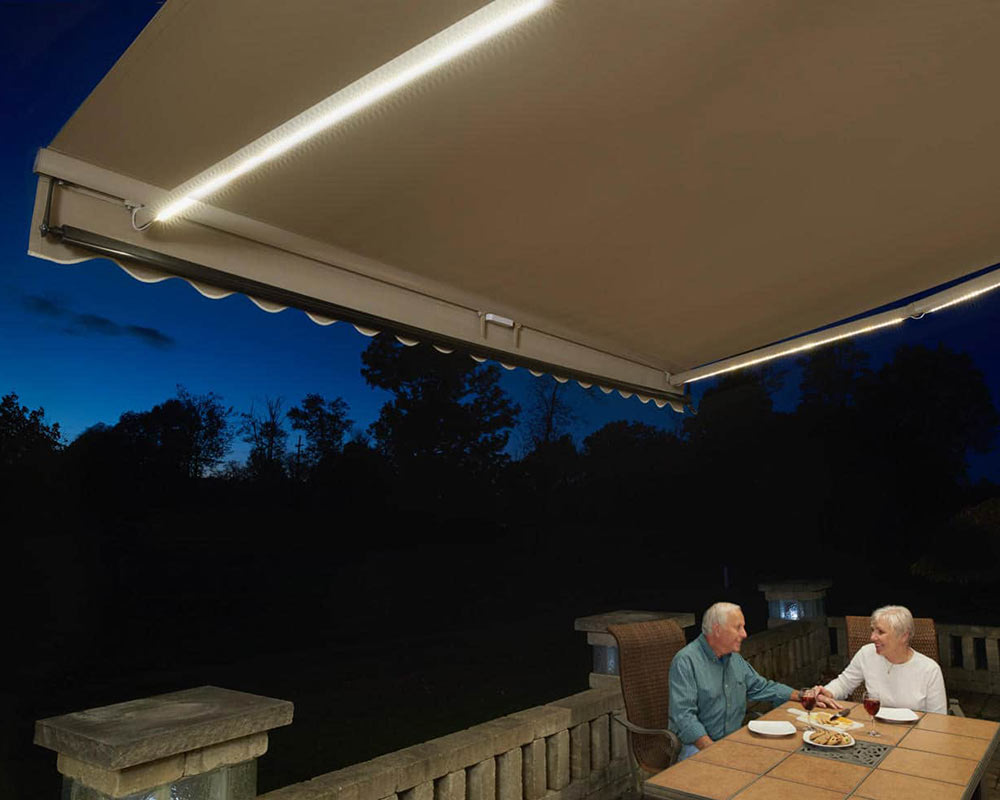 Dealers Have It Made in the Shade
When Selling SunPro Awnings
SunPro is committed to bringing our high-quality awnings to dealers and their customers across America.
From now offering 30 in-stock high-quality Sunbrella® fabrics across five color groups to giving customers seven signature premium features that come as standard features on all our awnings, SunPro produces the finest awnings in the industry. SunPro is committed to bringing our high-quality awnings to dealers and their customers across America so homeowners and renters from Seattle to Miami and from San Diego to Maine can gain maximum enjoyment of their patios, porches, balconies and other outdoor spaces for many years to come.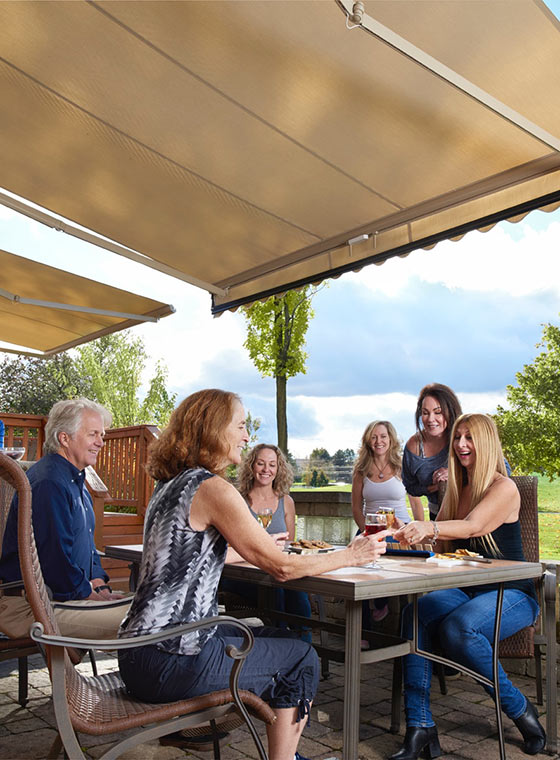 Get Our Motorized Retractable Awnings Fabric Catalog
Get Our Latest Motorized Retractable Awnings Brochure
Get a FREE Estimate
Fill out this form and we will contact you!